Diamond Dermabrasion Introduction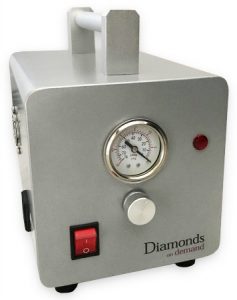 We want to introduce the Diamond Dermabrasion, it is a creative improvement of the Micro-crystal Dermabrasion.
The Diamond Dermabrasion machine can provide a non-surgical skin refining procedure, by using sterile diamond heads to polish or remove the top skin layer, then vacuum suction removes the particles along with any dirt and dead skin. This procedure removes skin debris, imperfections, blemishes, wrinkles and unwanted pigmentation and scarring on the skin.
Moderate usage of Diamond Dermabrasion, accompanied with skin products that penetrate through top skin layer that reach the dermis level, helps to replenish natural nutrients, restore cell activity, and promote skin health. The results after Diamond Dermabrasion treatment is usually a healthy, glowing, beautiful skin.
Common Uses
Removing pimples
Skin firming
Reduces acne scaring
Lightens dark spots
Prevents wrinkles
Cuticle removing
Excellent cleansing effect
Aids high absorption of nourishment products
Awesome ability to maintain clear and pure skin
Many other uses
Results:
Vibrant, healthy, beautiful, glowing skin, diminished signs of ageing or scarring.
Treatment Time: 30 or 60  minutes per session (multiple sessions needed)
Recovery: No Downtime
Diamond Dermabrasion - How It Works
A wand tipped with hundreds of tiny diamonds gently removes layers of dead skin cells from the face and body.
Elastin and collagen fibres are also stimulated by a controlled suction which encourages cellular renewal,resulting in visibly clearer, brighter, flawless, firmer skin.
One of our trained therapists will tailor make the treatment to suit your personal needs by working with different sized and grains of diamond heads.
Treats various skin irregularities
Including:
Fine lines and wrinkles – including the delicate eye area
Pigmentation
Acne scarring and thickened skin
Congested skin (including milia)
Sun damage or uneven skin-tone
Enlarged pores and dull skin
Stretch mark reduction
Microdermabrasion flash treatment (30 minutes)
£40
An ideal express treatment to have in a lunch break or as a quick pick me up treatment to remove dead skin cells, help with congestion as well as fine line and wrinkles. Extractions will be performed to remove any blackheads and help with blocked pores.
Microdermabrasion Deluxe treatment (60 minutes)
£55
A luxury treatment with all the benefits of the flash treatment with the addition of an anti aging mask and relaxing scalp massage. You will be left with smooth glowing skin and no downtime.
Add to any Environ Facial
£20
Add microdermabrasion to any Environ facial for just £20. By incorporating this prior to your facial it will help to increase the results of your treatment by removing any dead skin cells and helping the products to penetrate the dermis further.